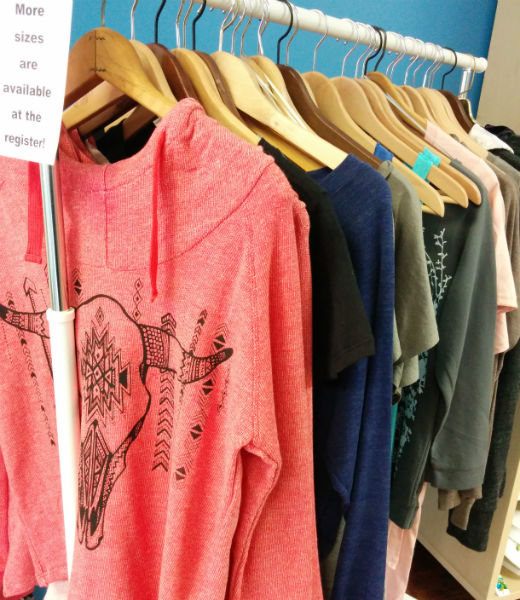 Spring is here and with it comes lots of new handmade goodies in at the B3 Artisan Market!  One of our newest favorites is MadLove shop, a line of artist-designed screenprinted clothing made by Angel D'Amico – Bauer.  Each piece is hand screen printed with her original artwork, making each piece truly unique.  Blue Buddha stocked up on a variety of her prints on t-shirts, sweatshirts, hoodies, tanks, and more in sizes S-XL, so we're sure to have something for even the most discerning fashionista.  We even picked up a few truly beautiful soft scarves just in time for Mother's day!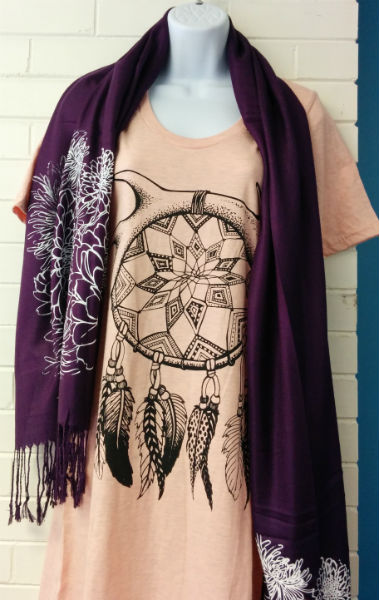 She says about her work:
"Mad Love is specially ONE OF A KIND hand screen printed, hand dyed, hand painted, fashionable and unique items. made with Love by me. I make each unique item one at a time, as if each piece were a creation of art.
Angel D'Amico – Bauer is a Chicago based Freelance Illustrator and Designer. Loving life and living her dream, Angel has a unique sense of style and a wide range of skills from drawing to painting, digital art, graphic design, playing and composing music, hand screen printing – MAD LOVE Clothing and accessories, book making, sewing, photography, crocheting, cookie making, and some other random skills. She combines her fine art skills with her digital artwork, to create beautiful, unique, and exotic environments of work."