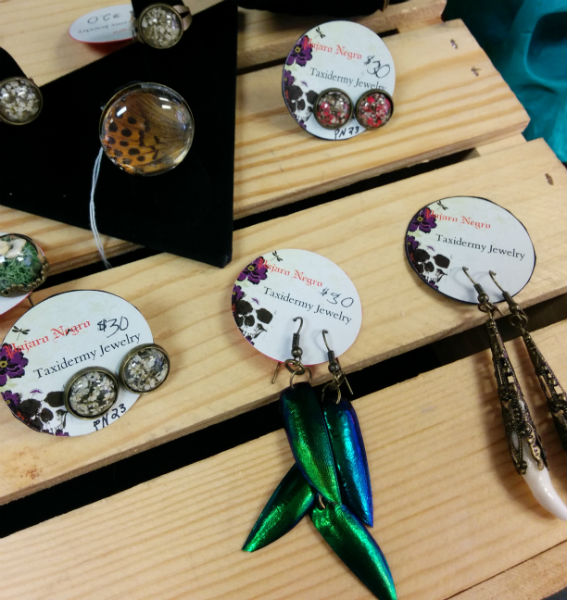 April Montiel is the artist behind Pajaro Negro taxidermy jewelry and is a proud Chicagoan, born and raised.  She attended the University of Denver and has a degree in anthropology.  April prides herself on her Mayan culture and the "momma bear" instincts she acquired as a mother of a fiesty daughter.  April has a strong belief that all living or once living things should be treated respectfully.  She prides herself in taking what was once just thrown out like trash and gives it a hauntingly beautiful second life in each piece she produces.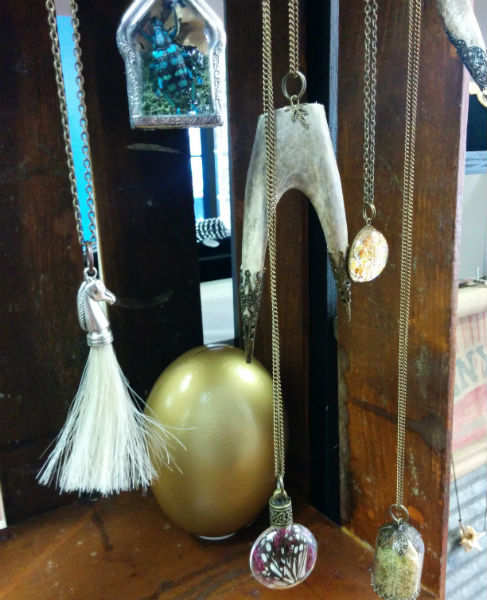 Her jewelry integrates pieces of bone, teeth, butterfly and beetle wings, moss, and flowers with antiqued metal decorative elements, resulting in lovely wearable and natural memento mori earrings, necklaces, cufflinks, and more.
Her Artist Statement notes:
"I have a strong belief that all living flora and fauna should be respected both in life and death.  By sourcing ethically acquired flora and fauna that was once considered trash and respectfully bringing it back to life through each piece I make.  I try and bring out the beauty and celebrate the life of what once was."
Stop by and see these celebrations for yourself!