Use varied jump ring sizes to create the classic Jens Pind chainmaille weave, then add extra embellishments to create these new variations.
You've conquered Jens Pind, you've moved on to Just One Ring and you may even have created the Just One Ring Y Necklace variation shown in a recent blog post. So, what's next?
These guys are!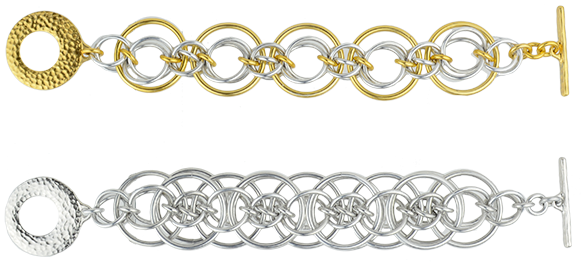 Mayhem (top) and Mayhelm (bottom) are the two latest weaves using the Onering/Whatif/May* concept – read more about Onering at Maille Artisans (M.A.I.L.).
You'll need to know how to weave Jens Pind and Just One Ring first, and then you're ready to tackle these guys. Check out the video below for how to create Mayhem and Mayhelm.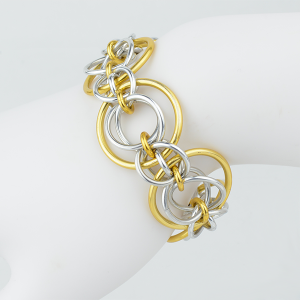 Mayhem jump ring sizes and materials:
* 10 small rings (gold color) – G16 – 16 SWG (1.6 mm) 11/64″ (4.4 mm)
* 12 medium rings – T16 – 16 SWG (1.6 mm) 3/8″ (9.5 mm)
* 10 large rings – Z16 – 16 SWG (1.6 mm) 15/32″ (11.9 mm)
* 5 huge rings (gold color) – SS14 – 14 SWG (2.0 mm) 3/4″ (19.1mm)
* 4 optional "small" rings – H16 – 16 SWG (1.6 mm) 3/16″ (4.8 mm)
* Artisan Toggle
* 4 additional small rings for clasp (gold color) – G16 – 16 SWG (1.6 mm) 11/64″ (4.4 mm)
Note that the additional optional "small" rings are a slightly larger size than the small gold rings used in the original strip. They need to be larger to fully accommodate all the rings they are weaving through!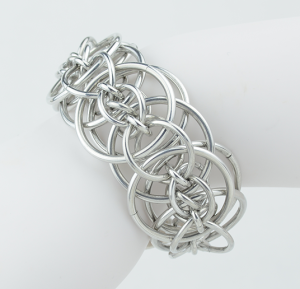 Mayhelm jump ring sizes and materials:
* 10 small rings – G16 – 16 SWG (1.6 mm) 11/64″ (4.4 mm)
* 12 medium rings – T16 – 16 SWG (1.6 mm) 3/8″ (9.5 mm)
* 10 large rings – Z16 – 16 SWG (1.6 mm) 15/32″ (11.9 mm)
* 13 huge rings – SS14 – 14 SWG (2.0 mm) 3/4″ (19.1mm)
* 4 "small" rings – H16 – 16 SWG (1.6 mm) 3/16″ (4.8 mm)
* Artisan Toggle
* 4 additional small rings for clasp – G16 – 16 SWG (1.6 mm) 11/64″ (4.4 mm)

Show off what you make. Share what you make to the Blue Buddha page on Facebook and we might feature you as our photo of the day! Or, upload to Instagram and tag us: @bluebuddhaboutique #chainmaille