Create birthstone-inspired chainmaille jewelry for December

Our featured December birthstone kit is the Gridlock Byzantine bracelet with turquoise seed beads. Purchase all-in-one, limited-edition kits on our seasonal page.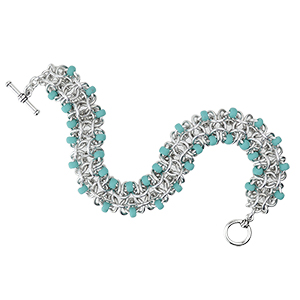 If you'd like to customize a different color scheme, check out the supplies list at the bottom of the Beaded Gridlock Byzantine page for a shopping list. Note that you can also use anodized aluminum rings for the H18 (center) rings.
December Birthstone inspirations
Natural turquoise comes in a wide variety of hues, from brilliant light blues to deep greens. It has been prized as a gem and ornamental stone for millennia due to its unique coloring. Turquoise is a hydrous phosphate of copper and aluminum. Blue turquoise forms when there is copper present (most Arizona turquoise); green turquoise forms in the presence of iron (most Nevada turquoise).
Mix and match the components below with aluminum, copper, black, brown and gold jump rings to create your own turquoise-inspired jewelry.
Click an image to purchase: