Save Your Eyes From Computer Vision Syndrome (And From Too Much Crafting)!
Recently I've seen several articles about Computer Vision Syndrome: eye and vision problems resulting from long time periods spent staring at a computer, mobile phone, tablet, e-reader and other digital screens.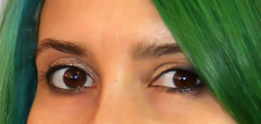 Though in my case–and possibly yours–the C may as well stand for Crafting! I'm sort of joking, because looking at a flat, back-lit screen is different from looking at hands moving around using tools. But I'm not joking when I admit that I have an easier time turning off social media and putting away my phone/computer than I do trying to stop weaving when I'm in the middle of a project. ("Hello, my name is Rebeca and I'm a chainmaille addict…")
Symptoms of CVS include eye fatigue, blurred vision, neck pain, headaches and more. Those symptoms are similar to what happens if I craft without stopping to take care of my eyes and upper body. With CVS, lack of adequate sleep (due to staring at a digital screen into the late evening hours) leaves the eye muscles unable to recover from strain. Hmm, that also sounds familiar, because I'm probably not the only chainmailler who's stayed up just a little too late, trying to finish "one more ring … oh, well, actually just one more row…OK, now it's just one more row … "
The American Optometric Association's website lists tips for protecting your eyes and treating Computer Vision Syndrome. Do check it out.
If you have eye strain, whether it is more due to crafting or the digital screen (or, most likely a combination of both!), remember to check out the Blue Buddha video on eye yoga. These are real techniques for strengthening and relaxing your eye muscles. These tips are great for crafters who experience eye strain or worsening vision, and great preventative exercises to keep your eyes healthy and strong as long as possible. Have you tried eye yoga? Let me know in the comments!