Leave A Comment For Your Chance To Win A Free Kit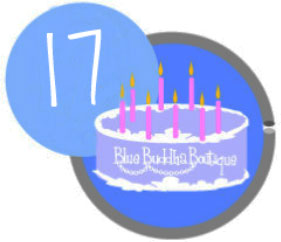 Woo-hoo! 🎉 As of this week, Blue Buddha Boutique is 17 years old! 
It's been a journey with countless "ups" and a few "downs" … and overall, I couldn't be happier to celebrate with you.
A handful of you have been with us since the very beginning! This astounds me, and I am deeply grateful for your continued support for so many years. Thank you, thank you, thank you!
Along the way, many new customers have joined us. You offer new energy and enthusiasm to this craft, and I'm thankful for each and every one of you.
Honestly, all of you continue to motivate and inspire me. It is because of you that I didn't completely close down a few years ago, and instead have kept the torch burning, albeit at a much smaller scale. You seriously are the best customers I could ever ask for.
To help celebrate, how about a giveaway?
Comment below (or on our post on Facebook) as if you were signing B3's birthday card. Tell us your favorite B3 memory or experience in your comment. One randomly chosen winner will receive a FREE kit and instructions of their choice.*
Comments made through midnight, Saturday, Feb. 29, 2020 are eligible. A randomly chosen winner will announced on the first week of March 2020.
We can't wait to hear your stories. Happy weaving!
*Any base metal kit + PDF instructions (or hard copy included instructions for 3rd vendor kits) available on the B3 Etsy store with a total value up to $45. Redeemable through June 30, 2020.