Helm Chain
Helm chain is a simple and versatile weave that comes together quickly and uses a small number of rings. This weave can be created in many ring sizes and works great as a necklace or a bracelet.

Instructions for this project can also found in Rebeca Mojica's book, CHAINED (available on Amazon or through the Blue Buddha Etsy shop.) This comprehensive book include tips and tricks for creating chainmaille as well as instructions for 22 projects ranging from beginning to expert level and dozens of variations ideas.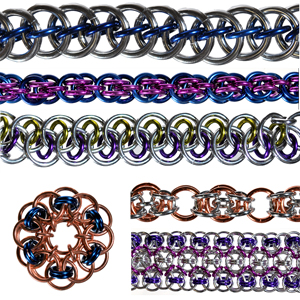 Once you've mastered Helm chain, grab a copy of our Helm Variations tutorial to learn 6 totally different spins on the basic technique. You'll be amazed at the various looks that can be achieved!
RIGHT-handed Instructions
LEFT-handed Instructions