Gaylemaille
Introducing Gaylemaille: our first chainmaille project from long-time B3 employee Jen Hohe. This charming beginner-level chainmaille bracelet was designed by Jen as a gift for her mother, Gayle. Take your knowledge of mobiusing jump rings along with a love of seed beads and blend them together to create this cheerful bracelet. This piece comes together fairly quickly; make one for someone special or treat yourself!

Some of our favorite color combinations for this design: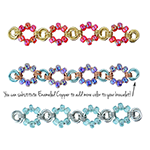 ** NOTE: No instructions are currently available for this design. This is an archived page intended to provide eye candy and inspiration. **

BUILDING BLOCK REQUIRED: Forward and backward Mobiusing
This project uses techniques learned in our Forward and Backward Mobiusing tutorial; you must be familiar with this technique in order to make this project. Download Forward and Backward Mobiusing for free!