Sometimes The Universe Is Just Waiting For You To Say You're Ready
Last month, I challenged you to find an un-finished crafts project (UFO) and commit to finishing it by the end of the month. A few of you commented on the Facebook post, and one person sent me email, to share your commitments. Thank you for doing that!
I'll be honest – part of my motivation for this challenge was to motivate myself to finish a project! I have far too many unfinished projects, but there was one in particular I wanted to tackle.
I'd had the idea floating in my head for awhile to create a series of necklaces based loosely on my infamous Poseidon's Embrace piece. I'd already made one necklace, and had started the second…but then the holiday show season crept up, and then end-of-year inventory, and after that I ran out of excuses, but kept procrastinating. I knew I was putting off this project because I honestly had no idea how to create what I envisioned, and somehow the idea of just not doing anything was easier than sitting down at my worktable and pushing through the discomfort.
Hence, the challenge.
Despite getting off to a slower start due to a seasonal cold, I finished my piece by my deadline. And … *drum roll* … the piece sold before I even posted it online!
As I was putting the finishing touches on the necklace, a woman who'd purchased a few pieces from me at a local show messaged me looking for a statement necklace. I sent her a few images of the previous necklace I'd made, took a quick photo of the current necklace in progress, and also sent a few color palettes. I needn't have bothered with the color palettes, as it turned out she loved the necklace I was working on, and wanted to buy it right then and there! Serendipitous!
Here it is. From the pile at left, to the gorgeous piece, named Resilience, at right. Resilience is created with links of various metallic hues in two sizes. Inspired by dystopian fiction and the idea of creating beauty out of the wasteland. Also, not gonna lie – it's something I imagine the hero might wear when she wants to dress up while continuing to look badass.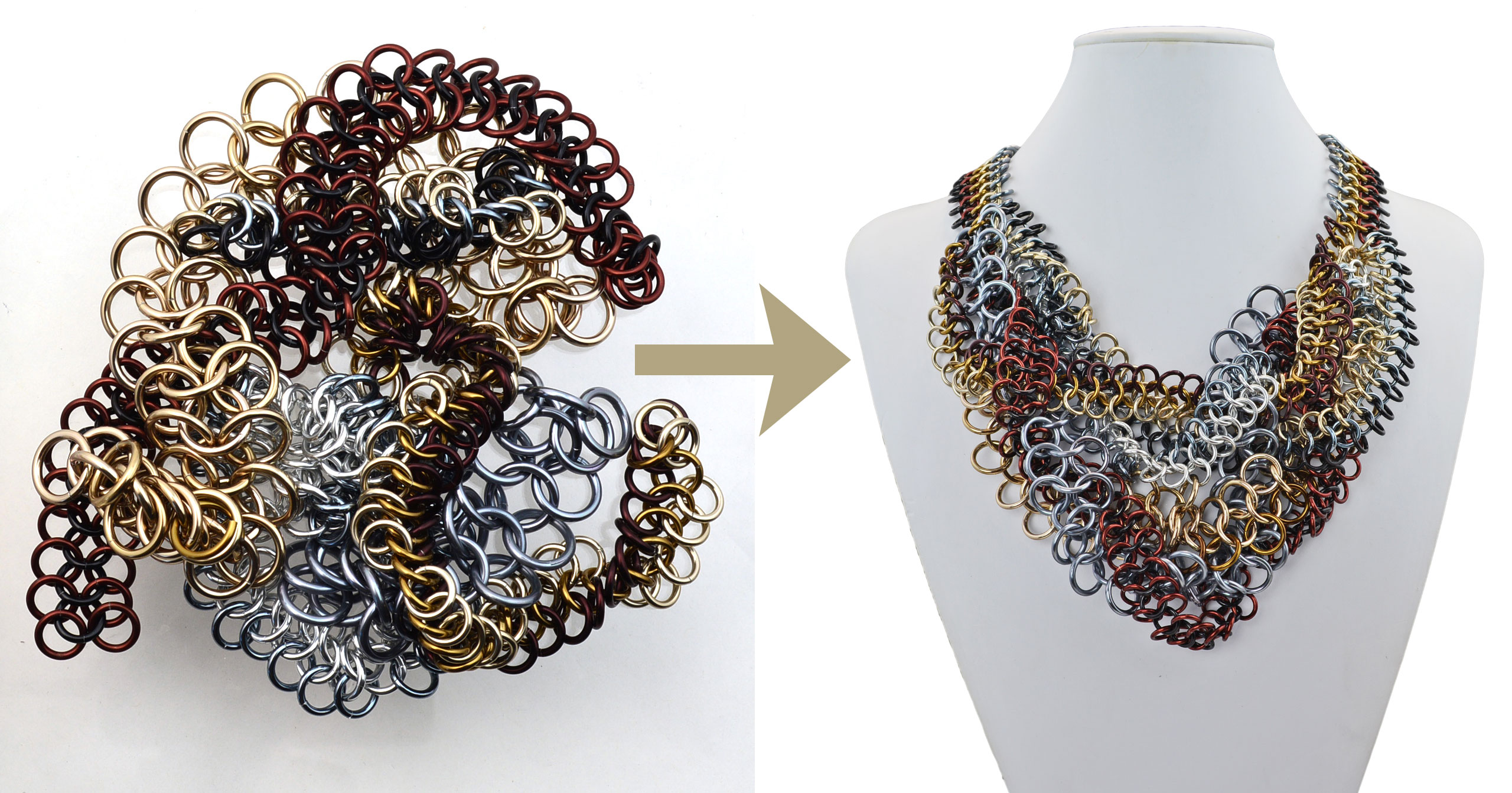 Overall, I'm so happy with how this came out, and I'm amazed that someone purchased the piece right as I was finishing it. This is the first time this has happened to me in the 17 years I've been doing this! I'd like to think the Universe was delivering me a resounding message of "You're on the right path." And now I'm eager to figure out what my next commitment is!
Stay tuned for other Creative Challenges this year. And in the meantime – if you've got a UFO sitting around, go finish it! Maybe a buyer (or gift recipient) is waiting for you as well.
---