We can't believe another Bead&Button show has come and gone! It was a whirlwind in the best way. We had a great time seeing old friends and meeting new ones. (And if you stopped by our booth and didn't get the chance to sign up for our mailing list, what are you waiting for?!)
Let's recap B&B 2013, shall we?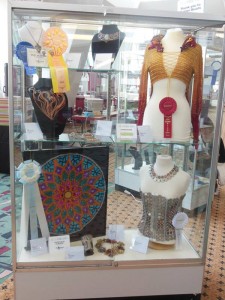 >  Woo! B3 owner Rebeca Mojica's Mandala was voted "People's Choice" in the Bead Dreams competition thanks to all of your votes! Also, a big congratulations goes out to Vanessa for "Phoenix Jacket" and Omni for "Penny Pincher"; they placed second and third, respectively, in the Wirework category.
>  The youngest mailler to stop by the B3 booth was just eight years old! Smart kid.
>  More than 140 kit samples were made for the show.
>  441 Make+Takes completed – that's one every 3.8 minutes. Our pliers are tired just thinking about it!
>  Only one person asked, "What is chainmaille?" Looks like our beloved craft has moved up in the world. Definitely worth celebrating!
We are glad to have a few seconds to catch our breath, but we're already looking forward to Bead&Button 2014. Any suggestions on how we can improve for next year? Complete this survey by June 30th and be entered to win a $50 Blue Buddha Boutique gift certificate!  Or, email us at [email protected].
Check out more photos from the B3 booth at Bead&Button 2013.