Whether you're headed to a trade show or just displaying it at home, your jewelry's presentation can be as important as the jewelry itself. Like a picture without a frame — it's fine alone, but the frame makes it shine that much more. Here are a few methods of presenting your jewelry in inviting, interesting ways.
Screen Hanging

Display earrings on screen material purchased from a hardware store like The Home Depot. Using a heavy-duty stapler, attach the screen to a picture frame and place it on a small easel so it can stand on its own. For added appeal, arrange your earrings by studs and dangles, then by color. Easy-to-follow tutorials can be found here and here.
Little Pods
By pods, we mean hollow areas where you can store small jewelry so you can find them when you want them. To DIY, paint and decorate an egg carton and store smaller jewelry (rings, earrings) inside each compartment. Obviously, the more jewelry you have, the more cartons you'll need (and you can easily cut the cartons down if you have too many). To quickly spot what piece you're looking for, color coordinate jewelry with the egg cartons – silver cartons for silver jewelry and so forth. For more examples, check out this organizational blog.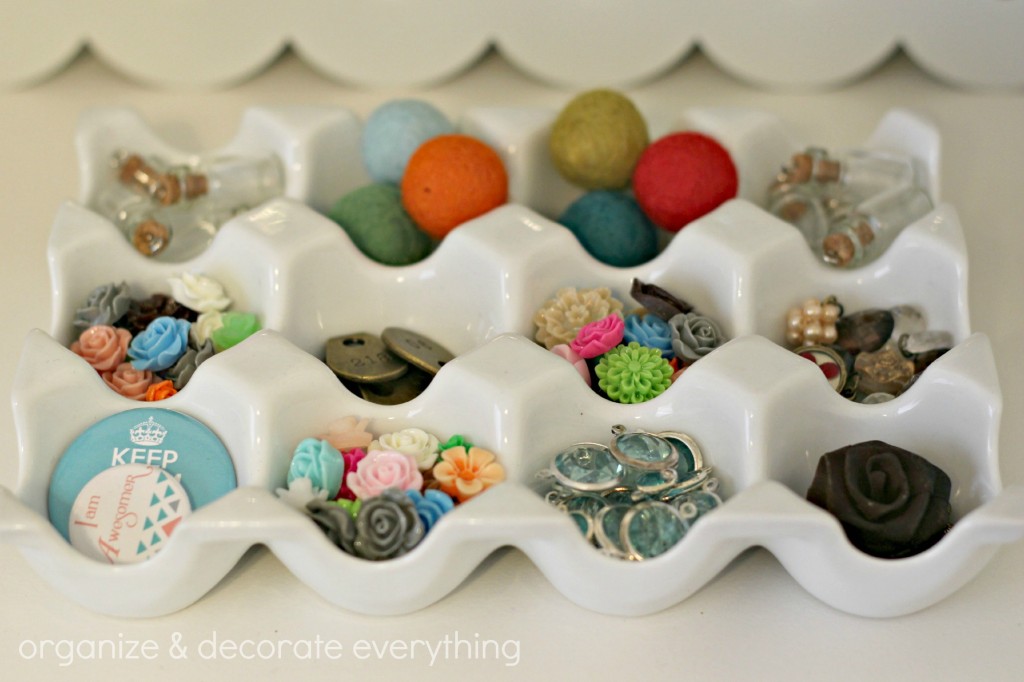 Traditional Cases
Display cases are an elegant way to show off your jewelry. There are a million options out there, from cases with an open display or cozy drawers to keep your jewelry secure. Online retailers like Get Organized offer plenty of options regardless if you are headed to a trade show or just want something to compliment your furniture at home. It's especially handy to have cases that make transporting your collection easy and will hold the pieces in place. It helps to not waste time detangling your various pieces every time you need to select a new one.
Use a Basket
Baskets are great for keeping track of your precious rings, earrings and delicate necklaces. If you like earthy motifs, consider textiles like bamboo, pieces of driftwood, or dried reeds to give your display some color.
Ties for Pins
To display your brooches and pins, take a solid-colored men's necktie and secure it to a rod in your closet. Attach your pins to the tie and hang the tie from the rod. It'll provide quick access to your pins and brooches while you are selecting the blouse, dress or jacket that you will wear that day. This technique will also work well if you have spare wall space outside of the closet. Adhere some 3M Command hooks like these from Staples, lay a rod across the hooks, and let the pin-covered ties hang down from the rod.
Plates or Unusual Containers
Check out your local thrift stores or antique shops for special dishes you can use to display your jewelry. You're more likely to find one-of-a-kind treasures at these places — not to mention that they are budget friendly! Small saucers or serving bowls of all shapes and sizes are great for displaying rings or pins. Soap dishes are also a good choice. Also consider using a mason jar, bottle or even a small sandbox.
A little creativity will take you a long way when it comes to displaying your jewelry. Creating an effective, artistic display will hopefully be as rewarding as it was to make your jewelry. Happy weaving!
Do you have clever ways that you display your jewelry? Show us your ideas; email us at [email protected] or post them to the B3 Facebook page!