Why do you charge for your instructions?
We receive a lot of feedback about our instructions - usually in the form of customers saying, "Blue Buddha instructions are the only instructions I can follow!" That said, some folks ask us why we don't give the instructions away for free. For that reason, we'd like to let you know a little more about why the prices are what they are.
Most of our tutorials take a minimum of 20 hours to produce and involve many professionals from chainmaille designers to photographers and graphic designers. Sure, we could try to scimp on these elements, but we know the product would suffer. Read on for more information about the journey each of our tutorials goes on before it is made available.
---



Each tutorial starts out with one of our project designers. These artists are crucial to offering you unique projects and we couldn't create these products without them. We recognize this, which is why we pay our designers royalties much as would be done if they'd published a book. This means that a portion of the fee you pay for our instructions goes directly to the artist who created that tutorial. Pretty cool, right?
Once a project is created, it must be tested until it's perfected and then "deconstructed" to determine the best means to teach it. Once a method is determined, the writing begins. Take a second and think about how you would try to explain a chainmaille weave to someone...on paper. You guessed it - this stage is tricky and takes time!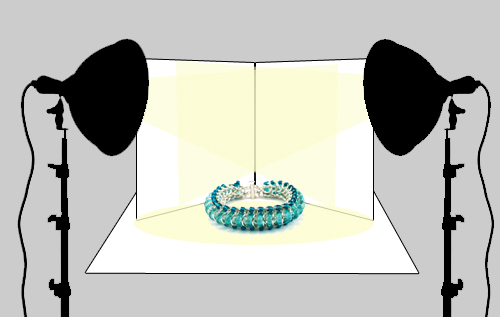 Once the writing it complete, each step is professionally photographed using photo-studio-quality lights and other equipment crucial for acheiveing our crisp, well-light step-by-step photos. The photos are then individually retouched to make certain every ring is very visable and our graphic designer adds arrows to many steps to clearly illustrate ring paths.

Finally, the whole thing gets laid out and edited a first time. We said "first time" because the journey doesn't stop here. Tutorials are ALWAYS tested before they are made available for sale, often by several people ranging from novices on our staff to expert maillers depending on the skill level of the project. This testing does cost more time and money (as well as supplies) but it is invaluable to the quality of our intructions. It allows us to identify the most universally successful way to explain the project - probably why we get a lot of compliments on our tutorials from happy maillers!
Once testing is complete, more edits are made and finally, the tutorial is finished. Phew! It is quite a process but it's all of these steps that go into making B3 tutorials outstanding.
Think about purchasing patterns at a fabric or yarn store - it's a similar concept to what we do at Blue Buddha. You don't get the patterns for free simply because you are purchasing supplies, and it's the same thing when you buy from us. We're not nickel and diming you; we're supporting artists and running a business. Do you like to get paid for the work that you do at your job? Well, we do too. ;-)
---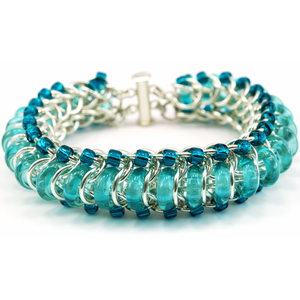 One more item of note - we not only allow but encourage people to create our projects and sell them on their own. To us, it is a very low investment to spend $6-$10 to learn a project that you can then turn around and make for profit!
Even if you are just making this for your own pleasure or for gifts ... we consider it a small investment for something that you can enjoy for the rest of your life. (Not to mention that they should save you from having to buy new valuables after throwing your pliers/pieces across the room in frustration - yes, we've been there too.)