What sizes do you use to make the Quantum Rose?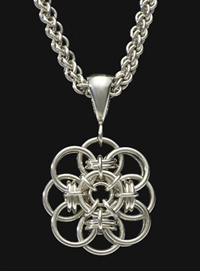 Ah, of course you are drawn to Rebeca's signature piece, the Quantum Rose. Unfortunately, this is one of the few designs that we will never teach or sell instructions for. It is one of her best-selling pieces, and we think there are just some secrets an artist should keep!
Blue Buddha began selling this design in 2003, and it is now sold through Rebeca Mojica Jewelry. We appreciate that the chainmailling community respects our decision not to divulge sizes. We are glad that folks aren't reverse-engineering the Quantum Rose and selling them. Thank you, chainmaillers—you know you're the best crafters out there!
We are happy to provide ring sizes for just about anything else on our website. Many sizes are listed in the kits and instructions section, or in the sterling or base metal stats pages, but if you don't find what you're looking for, let us know and we'll see if we can help.