One of my fellow Chicago Craft Mafia sisters, Cinnamon Cooper, has just released a book called The Everything Cast-Iron Cookbook.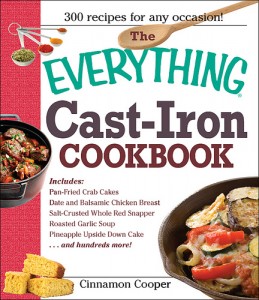 Not only am I excited about this book because one of my friends wrote it, and there are so many delicious, culturally rich dishes (300 recipes, whew!), but also because I was lucky enough to be one of the food testers! On a hot Chicago evening last summer, I enjoyed cornbread, seafood stew, crab cakes with spicy mayo, hush puppies, scallops seared in clarified butter, grilled vegetables and fresh fig muffins. Delicious. I would be Cinnamon's food guinea pig any time.

I know most of you B3 blog readers like to create things with your hands, and for many of you, that crafty urge extends into the kitchen. So to celebrate the release of her book, I'm offering you the chance to win an autographed copy.
All you have to do to win it is leave a comment on this blog entry. On the morning of Friday June 4th, we'll randomly select one person to receive a copy of The Everything Cast-Iron Cookbook.
If you want to order your own copy, you can do so via an independent bookstore on IndieBound.org or through Amazon.com. (I also encourage you to write a review on Amazon.)
I must let you know that Cinnamon is one of the most generous and warm people I've ever met. What she has done for the Chicago craft scene is amazing. As one of the founders of the DIY Trunk Show, she's worked hard to promote the handmade culture in this city. All of the purses she sells on her website Poise.cc are made by hand with a percentage of the proceeds donated to various charities. She works hard to find American-made components (trust me, this is not easy) and she only uses sweatshop free, fair trade, and ethically produced fabric and supplies. I admire her business and am proud to call her my friend.
So leave your comment below for a chance at winning this mouth-watering cookbook by a remarkable lady. Good luck, and happy cooking!